BRAISENVILLE 
Restaurant
the spot for gourmets

The original flame of Paris since 2011
FROM MONDAY TO SATURDAY
Lunch: 12h – 14h30
(except samedi)

Dinner: 19h – 23h30
(two services)
Address, near Montmartre
36 rue Condorcet
75009 PARIS
M2 Anvers, M7 Cadet
RER B Gare du Nord
cosy atmosphere- SHADED TERRACE
Privatization
Up to 50 persons seated
reservations@braisenville.com
All fire, all flames at Braisenville: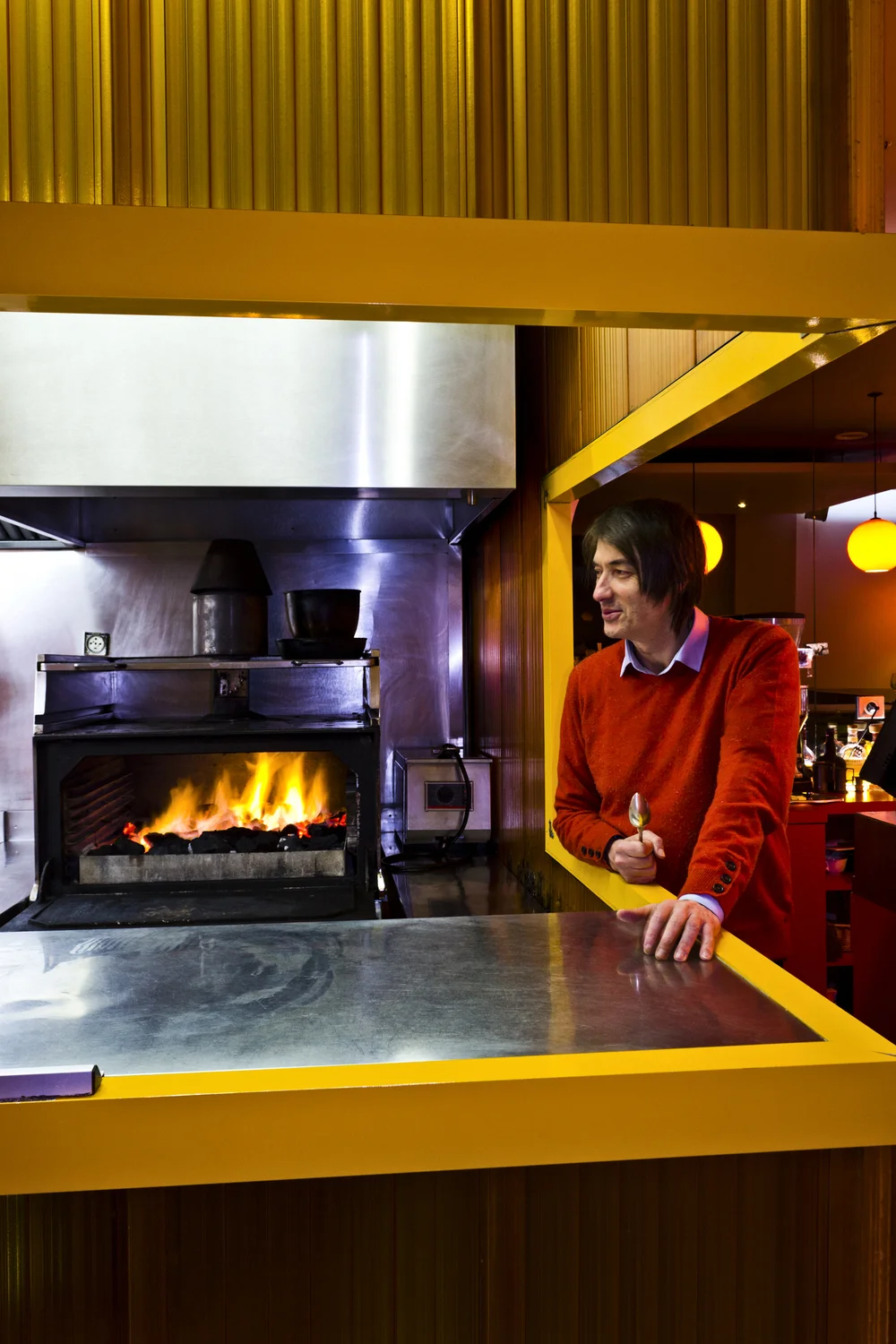 The refined spot of the 9th district
"Braisenville, is the pioneer of casual gourmet restaurant, which launched the charcoal oven and small plates in Paris in 2011.
We eat and eat again at Braisenville. We love its seasonal cuisine based on good products, unique lively and gourmet tastes enhanced by a perfect cooking. We sauce, we share, we live: a must for fish and meat lovers as well as vegetarians.
For dinner, discover current seasonal recipes and beautiful pieces. The inspired lunch formulas makes you happy.
You are welcomed here, in our room with its raw and refined decor, with eco-sustainable natural materials, like a friend. Relax, we're here for you."
A lively place that has broken the codes in Paris
Braisenville, its ember-red neon signs the boldness of the institution which introduced the ember oven in Paris in 2011 to reveal, refined as ever, the flavors of vegetables, meat and fish.
We work with these seasonal products, from producers in Ile de France and elsewhere, with intuition, passion, techniques and pep.
Braisenville has broken the codes by putting barbecue at the service of gastronomy and by replacing the format of small plates with the usual starter-main course-dessert menu. Format which has become largely democratized in Paris and which Paris no longer gets tired of. In 2011, it was all new.
Click on the gallery to see full size photos
Each recipe highlights seasonal products, daily arrivals and emotion in the mouth. Indicate your allergies when ordering.
For Groups from 8 guests, mandatory: for dinner, the Carte Blanche Tasting menu in 5 sequences (55€) or in 4 sequences (45€). For lunch, the starter+main course+dessert formula.
Dinner
(Monday to Saturday)
A large choice of seasonal tasting plates: vegetables, meats, fishes, cheeses and desserts.
A Carte Blanche Tasting Menu (5 sequences) or dishes to share.
Lunch
(Monday to Friday)
Starter, main course, dessert or Beef ribes to share or Carte Blanche Tasting Menu (5 sequences)
Wine selection
Mostly French wines with controlled vinification: bubbles, reds, whites, rosés, oranges, oxidative, sweet wines, spirits.
Eco-responsible setting and summer terrace
Exclusive natural materials reflect its DNA around the embers: wall covering made of clay and rice in the color of brick, black volcanic stones arranged around the open kitchen, benches in calcined wood.
Inside, you take a seat at tables made of unique handcrafted semi-precious stones or on "green forest" granite tables with soothing fossilized wood, decorated with bouquets of dried flowers.
Eating outdoors? Choose the permanent terrace or our beautiful flowery summer terrace*.
* According to the rules of the city of Paris: tables on the summer terrace have to be vacated at 10 pm. (meal to continue inside the restaurant).
Click on the gallery to see full size photos
Organize your events with the pep of Braisenville
The quality of the cuisine contributes to the success of your events, as does the location.
Depending on your needs, we will provide you with a tailor-made offer for your special events (weddings, birthdays, baptisms, etc.) or professional events (seminars, lunches or dinners).
You can also privatize Braisenville restaurant.
Send your requests to reservations@braisenville.com.
OUR RESTAURANTS, GOURMET SPOTS IN PARIS 9TH DISTRICT NEAR OPÉRA, MONTMARTRE AND PIGALLE SUD
To discover other restaurants with the soul of Philippe, different tastes of cuisine/ drink in stylish settings and relax atmosphere with human feelings? We are here for you.
Reserve at, in the Marais or near Braisenville:
Dessance
THE COCOON IN THE MARAIS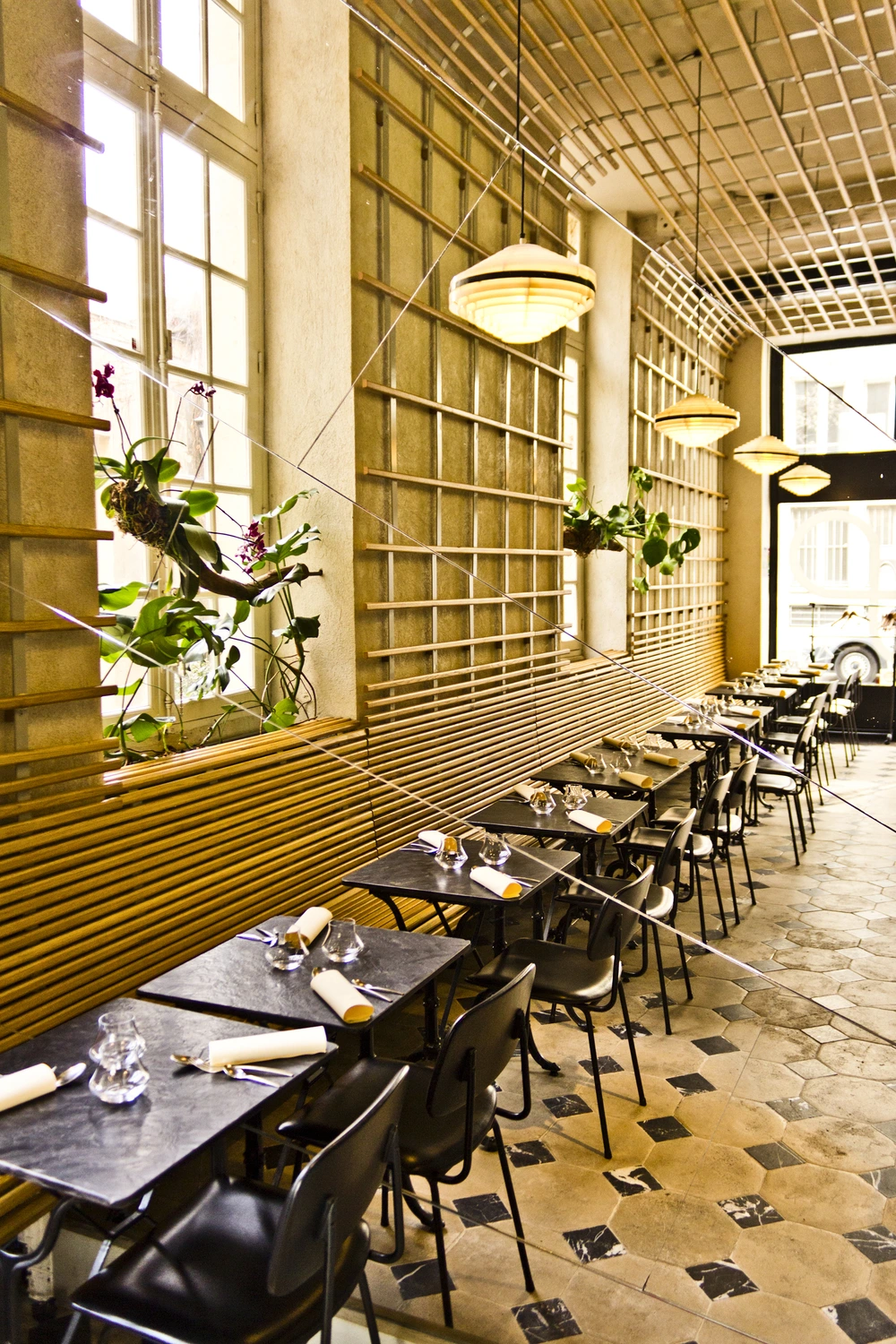 A modern French gastronomic restaurant which uses seasonal vegetables, fruits and plants as an inexhaustible source of inspiration.
Carte Blanche Vegetarian or Land & Sea Menus, accompanied by food and wine pairings to let go and let yourself go in this enveloping place, which received the design prize from the city of Paris.
A selection of wines from different French terroirs with few or no entrants.
Il Cuoco Galante
ITALIAN STYLISH CUISINE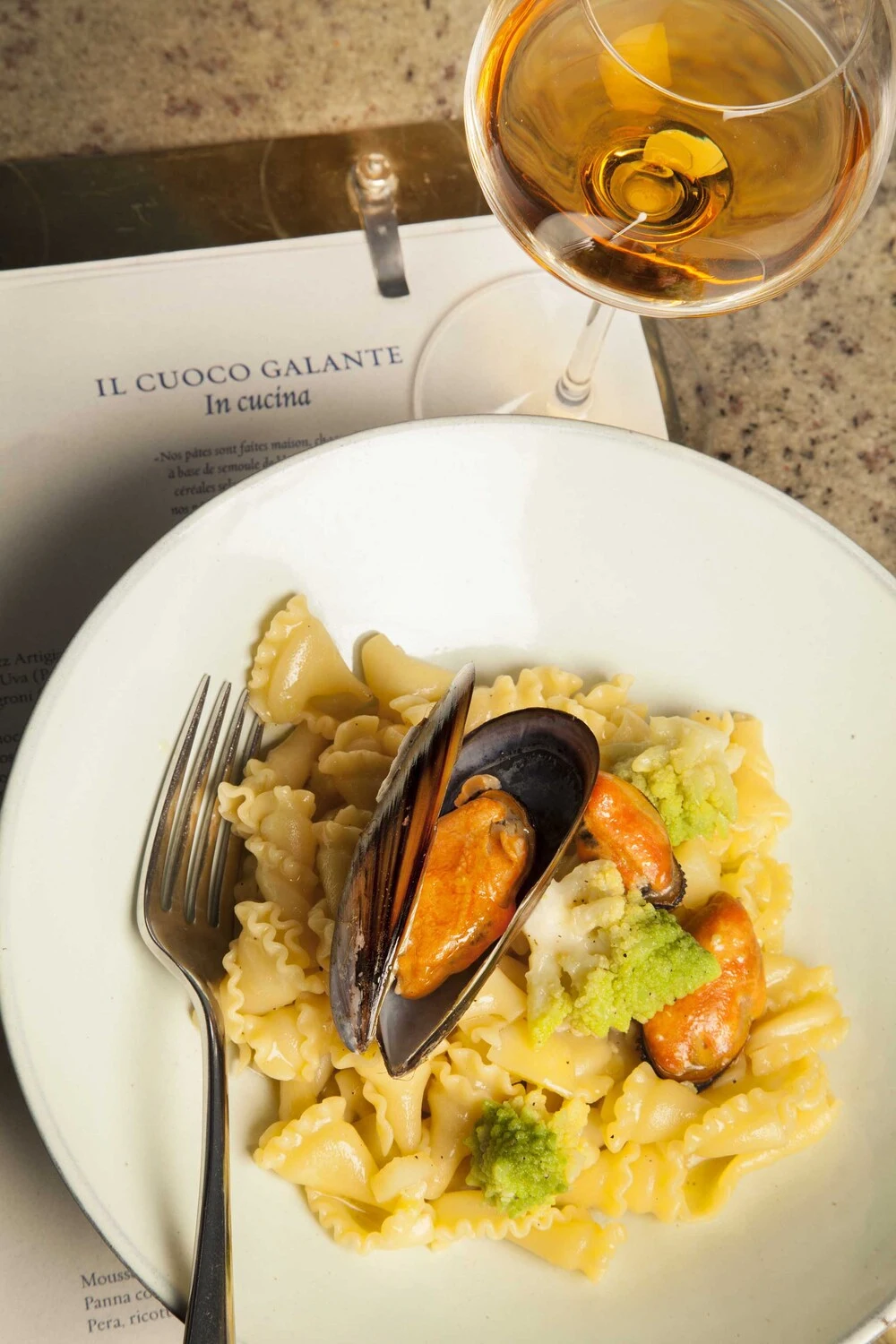 A la carte, fresh pasta made daily since 2017, a new twist of historical Italian recipes dating from the 18th or 19th century, precise antipasti, a meat or fish dish, generous plates inspired by Italian traditions and the inspiration of the Chef with a starred career (Lancaster, Royal Monceau, Grand Vefour).
Italian wines only.
An open workshop kitchen in an elegant room, where pasta and sauces simmer in front of you.
Amaro COCKTAILS & food
THE ART OF BITTERNESS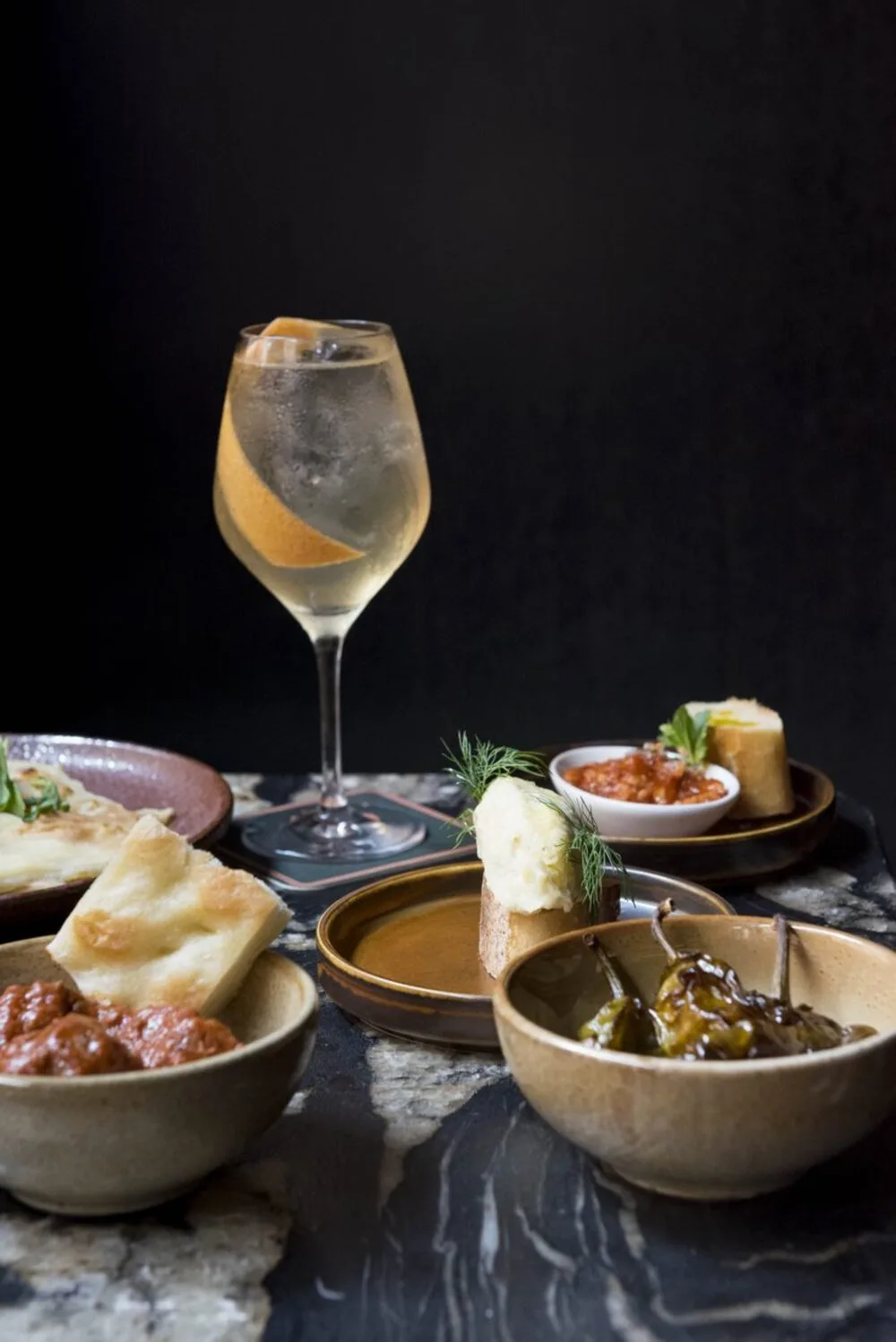 A unique Cocktail Bar in France, which tames the delights of bitterness and the art of the aperitivo. 
An exclusive carte of gourmet cocktails, with a skilful dosage of homemade natural preparations (using herbs, plants, fruits and vegetables, spices, etc.). To discover much more than the spritz. 
Finger food for dinner: Italian platters, bruschetta, delicious sandwiches and other amazing Italian wonders.